What's New
Plenty to Graze – Create the ultimate grazing board!
Naturally popped with no added nasties, you can now enjoy the crunchy flavours of Rosemary & Sea Salt with wholesome black rice and ancient grains, or Black Pepper & Chia with organic black. With plenty of goodness and only 5 calories per cake, they're the ultimate addition to your grazing board.
Enjoy these wonderful little snacks however you like, but we think they're the perfect partner to be armed with when assembling your next party platter! We spoke to the experts at Just Grazing Through and Feast & Co Melbourne who gave us their magnificent tips on creating the grazing board of dreams.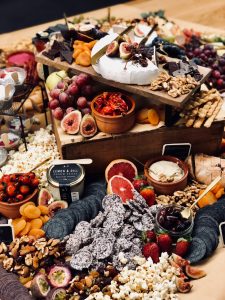 There's something about a colourful platter piled with real, whole foods that are timelessly attractive. They are the refreshingly perfect addition to any event, and you'll be guaranteed to impress.
We've got a few tips and tricks to help create your beautiful grazing board:
–        Aim for at least 2 cheeses – they hold platters and grazing boards together! Our go to's are Brie and Stilton.
–        Add some charcuterie like prosciutto and sopressa, their unique flavours are always a crowd pleaser.
–        Always add other deli products like olives or sun dried tomatoes; these belong on your grazing board.
–        Next in… Fruits – the perfect way to add colour and flavour to make your board even better. Always pick something that's fresh and in season; bunches of red grapes, fresh strawberries and our personal favourite, ruby red grapefruits. Add dried fruits like apricots and figs, to give a rustic texture and flavour. YUM!
–        Sprinkle some nuts and dark chocolate to add more volume to your board.
–        And of course, always give your guests bread and crackers. We've found the Table of Plenty Black Pepper & Chia Mini Rice Cakes add amazing texture to your boards, and they taste incredible. We also love them because they're gluten-free and vegan-friendly, which makes them a versatile addition for a big crowd!
There really is no end to what you can add to your grazing boards, there are so many flavour combinations you can create. As long as you're always aiming for deep colours and textures, and never leave an empty space! Everyone loves to nibble – after all, more flavour means more fun; so always experiment with different combinations.
Enjoy!!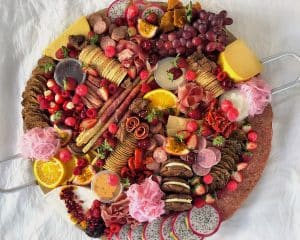 We created JUST GRAZING THROUGH to share our love of food and styling. Being raised in a large European family, we understand how precious life's little moments can be, and how food can always make them better. We pride ourselves on working with the best quality produce to create mouth-watering grazing boards for people who share our passion.
Make your perfect platter with our tips!
Tip #1: Quality always wins!
Always go for high-quality produce. This does not necessarily mean expensive, but a fantastic looking platter can go downhill fast without quality produce. We love Lamanna Supermarket or the South Melbourne Market as out one-stop wonderlands for fresh produce if you're in Melbourne.
Tip #2: Get colourful!
The eyes are the gateway to the stomach!
This means you have to be creative. Add some berries, slice some blood orange or even add some pink dragon fruit to bump up the colour!
Tip #3: A bit of everything!
Make sure you're covering all bases on your board. The staple products are cheeses, meats, dips, antipasti condiments, crackers and fresh fruit.
Feel free to let your creative juices flow when choosing your products, but always try and tick off at least two products from each staple category!
You also don't have to stay savoury; adding sweet products is bold and delicious – our favourites are ButterBing cookies and chocolate covered pretzels.
Tip #4: Pretty Placement
If you've got all your pieces but don't know where to put them, we've got you covered! Start by placing down your cheese separate from each other but close to the edge of the board for easy access.
Use jars or small bowls for your dips and any messy condiments, placed separately on the board.
Then build around them, add your meat, add your crackers and begin to fill the gaps with fresh fruit, something sweet. And especially don't forget your Table of Plenty Rice Cakes; they're light, delicious and healthy, making them the perfect addition to add some crunchy texture to your board.