What's New
Gut-Friendly Breakfast
Thanks to expert IBS and FODMAP dietitian Charlyn Ooi for her review of our Balance+ Muesli.
As a mum to an active toddler and business owner, time is of the essence in the morning. Our mornings are often busy but my husband and I always make it a point to sit down and have breakfast together as a family. One of my favourite low FODMAP summer breakfast options is muesli with Kefir and fruit. It's a convenient and quick way of fuelling me up for the morning before I go about my day.
But did you know that a lot of packaged breakfast cereals, muesli or granolas in the supermarket contain high FODMAP ingredients like dried fruits, wheat flour, honey, inulin and nuts like cashews? For those who struggle with digestive issues like Irritable Bowel Syndrome, high FODMAP foods can trigger uncomfortable symptoms like bloating, excess wind, tummy cramps, diarrhoea and/or constipation.
What are FODMAPs?
If you're not familiar with FODMAPs, it stands for Fermentable, Oligosaccharides, Disaccharides, Monosaccharides and Polyols; they are short-chain carbohydrates that are poorly digested in the intestinal tract. Instead of being absorbed into the bloodstream, they travel to the large bowel where the gut bacteria that reside there 'feeds' on these carbohydrate sugars via a process of fermentation, leading to uncomfortable digestive symptoms for sensitive individuals. Read more about FODMAPs here.
Introducing Table of Plenty's Balance+ Muesli
I was thrilled when Table of Plenty sent me their Balance+ Muesli to review. They had recently received the stamp of approval from Monash University after undergoing laboratory testing to have their product certified Low FODMAP.
Highlights of Product
Monash University Low FODMAP Certified
Good source of fibre (3.4g fibre per 40g serve)
Source of prebiotics (type of fibre that feeds the gut bacteria and promotes a healthy gut microbiome)
Contains beta-glucan (a type of soluble fibre that helps to lower cholesterol & boost heart health)
Low sugar with only 3.2g sugar per 40g serve
No added fructose
Fruit-free
Dairy free
Vegan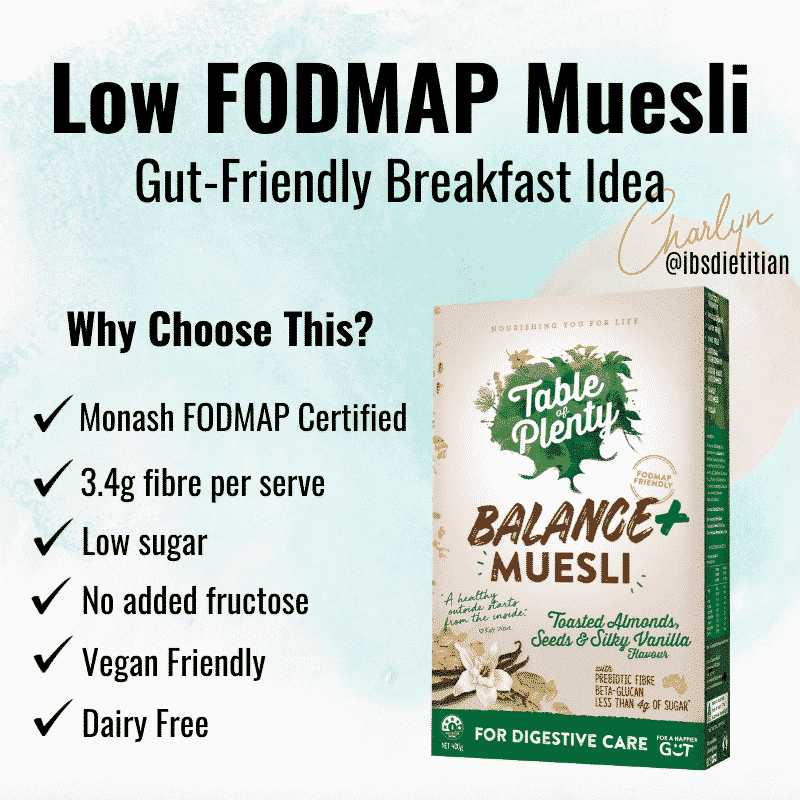 My Thoughts
Personally, breakfast is the most important meal of the day. Starting my day on the right note with a healthy, low FODMAP meal is essential for fueling me up without worrying about digestive discomfort. For this reason, I go for options that provide a good source of protein, fibre and complex carbohydrates to keep me satiated throughout the morning.
Table of Plenty's Balance+ Muesli ticks all these boxes. It's tasty, convenient and didn't upset my tummy like some other high FODMAP cereals would. I love that it's a good source of fibre and prebiotics which will keep my gut bugs happy! The added bonus is that it is now certified low FODMAP by Monash University so those who follow the low FODMAP diet can enjoy it without worrying about digestive discomfort.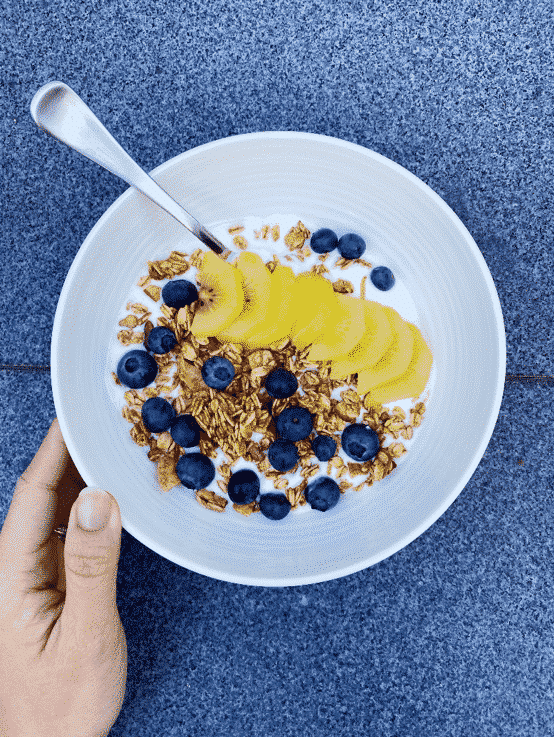 The muesli can be enjoyed with yoghurt, kefir or milk (lactose-free or dairy-free alternative if you are following the low FODMAP diet). I sprinkled Table of Plenty's Balance+ Muesli on top of their Lactose Free Kefir and enjoyed that with kiwi fruit and blueberries as my afternoon snack. It was a delicious afternoon pick-me-up and I felt satisfied for hours.
You can find Table of Plenty's Balance+ Muesli at Woolworths Supermarkets, as well as in Coles later this March. For more information, visit.